Welcome to Gold Investor Tuesday, May 30 2023 @ 08:34 PM EDT
The wait is almost over for 2015 Silver Eagle bullion coins
Tuesday, December 09 2014 @ 10:45 AM EST
Views: 6,049

Anyone who has been trying to buy (2014) Silver Eagle coins over the last month or two knows that they have been hard to come by as many coin dealers have sold out their inventory. It's not that there is a real run on these silver coins, but just that at some point the US Mint stops production before moving to minting coins for the following year. So it is with bated breath that silver coin buyers have been waiting for the Mint to finish up their dealer allocations for remaining 2014 stock and also start putting out the 2015 coins so that they can be purchased.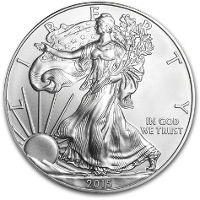 The US Mint has announced that it will begin sales of its 2015 dated American Silver Eagle bullion coins to authorized purchasers on January 12, 2015. Some of these dealers are already taking pre-orders with delivery dates usually in the third or fourth week of January 2015.
I am sure many silver coin buyers can't wait to be able to get easier access to the much adorned Silver Eagles.