Welcome to Gold Investor Monday, July 04 2022 @ 09:17 PM EDT
Putinís gold buying spree
Wednesday, November 19 2014 @ 11:55 AM EST
Views: 2,435

The Russian Central Bank had been buying gold on a steady clip. They have significantly increased their purchases this year (one assumes under Vladimir Putinís direction), since the annexation of Crimea and the subsequent weakening of the Russian ruble due to Western sanctions; especially those imposed on its financial system. Russia has purchased 150 metric tons of gold bullion so far in 2014 bringing its total reported gold holdings to 1,150 tons. The positioning provided by the Russian Central Bank Governor Elvira Nabiullina on the increased purchases should have warmed the cockles of every gold bugís heart, especially when she said:
ďWe are able to buy enough gold to diversify our gold and currency reservesÖĒ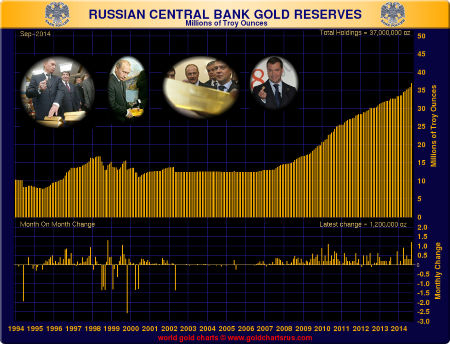 Are the Russians looking to (partially) back their currency with gold? Or are they just trying to diversify by swapping commodities they have in abundance (oil and natural gas) for one which is rarer? They have also been adding more Chinese Yuans while one assumes, selling their Euro and US Dollar holdings.
And we can also speculate what role may be played by the ongoing campaign to portray Putin as a bully? This is a serious topic that we donít mean to downplay but we are not qualified for making that detailed assessment, yet it is clear that the propaganda has been relentless for at least the last year. What role is that playing in how these Russian gold purchases are being perceived by their rivals? And how personal is this for Putin? One thing we do know is that the quoted price of gold has not benefited from these Russian purchases and all the geopolitical strife in the world. All the while Putin seems happy to take more and more physical gold off the market.