Fear and uncertainty caused by geopolitical strife, threats of terrorism and mediocre economic outlook mire most of the world. In this type of uncertain environment, it seems that the super rich are looking to get their hands on physical gold (bars) even as the (paper) price for gold continues to show weakness. Of particular intrigue is the huge increase in 12.5kg gold bars being bought by wealthy customers. These bars will run you around $491,000 a piece and are of the type seen in the popular movie "The Italian Job". The
UK Telegraph
reports:
"The number of 12.5kg gold bars being bought by wealthy customers has increased 243pc so far this year, when compared to the same period last year, said Rob Halliday-Stein founder of BullionByPost. "These gold bars are usually stored in the vaults of central banks and are the same ones you see in the film 'The Italian Job'," added David Cousins, bullion executive from London based ATS Bullion."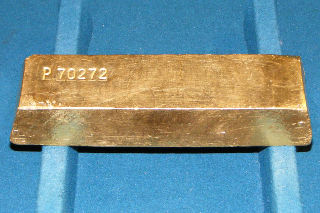 Also of note is the affect that the referendum in Scotland may be having on investor behaviour.
"
Mr Halliday-Stein said that while most customers arrange for secure storage of the larger bars in secret vaults operated by Brinks, some customers have taken physical delivery of the 12.5kg bars. The small coins can also be sent in the post. As the independence vote takes place, Scottish investment in physical gold has surged by 42pc in the past fortnight - on top of the traditional rise in gold demand at this time of the year.