Yes, you read that right - a
half gram
gold coin. I like the Royal Canadian Mint, even with its many overly priced "numismatic / non-circulating legal tender coins", but I am a bit taken back by why anyone would want to buy a half gram coin. I have seen one of the 1/25 ounce, or 1.24 gram, gold coins that RCM makes and it was tiny and barely legible while ensconced in its protective plastic capsule. Its hard to appreciate the art, that makes these 1/25 ounce coins "collectables" so I now only imagine how small, and frail the even smaller half gram, or 0.016 ounce gold coins would be.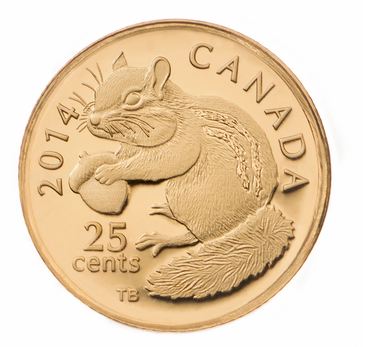 In real life the coin will have a diameter of just 11 mm but thankfully we have a nice big picture of this coin, which is denominated at 25 cents and features the cute, cuddly and hardworking Canadian chipmunk designed by artist Tony Bianco. The mint will produce 10,000 of these half gram 99.99% pure gold coins and sell them for C$79.95 ($72.30). I won't bother calculating the premium being paid over the price of gold, because it will be insane.
I can't figure out what I am missing here. The mintage is 10k - which is not very high and we are talking about a small $80 coin. The underlying amount of gold is tiny. If the RCM follows what it usually does, they will be minting more of these, all be it different animals as they already have a 25 cent Rocky Mountain Bighorn Sheep gold coin. So what's the rationale for buying this coin?
As an interesting comparison, one 750ml bottle of Goldschläger contains about 10 mg of gold - yes, those little specs amount to about 10 mg of gold. You'd have to buy a lot of Goldschläger to equal the amount of gold in this 25 cent gold coin, but it may be a bit more fun!