Welcome to Gold Investor Thursday, March 30 2023 @ 10:59 AM EDT
Contemporary Canadian art on a 2 oz gold canvas
Tuesday, March 18 2014 @ 01:07 PM EDT
Views: 3,547

The Royal Canadian Mint is well known for gold, silver and platinum bullion coins that are much loved by precious metals investors but its real money maker is the vast number of numismatic coins geared towards collectors. These non-circulating legal tender (NCLT) coins are limited run coins that sell at a large premium to the underlying gold, silver, platinum or base metal value. They meet the needs of pure coin collectors and can help precious metals investors diversify their coin holdings.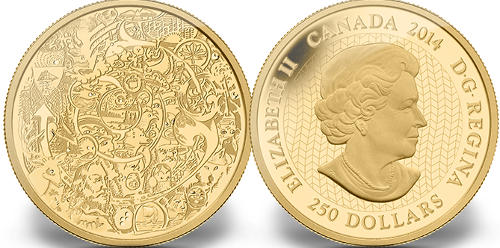 The $250 Contemporary Canadian Art gold coins features an original work of art by renowned Canadian artist Tim Barnard. He was commissioned by RCM to design the reverse side of the coin with 50 distinct images symbolizing elements of Canada ranging from the country's weather, First Nations culture and mythology, wildlife, plants, rugged geography and more. The standard Susanna Blunt portrait of Queen Elizabeth II is found on the obverse of this gold coin.
"
Canada Through the Eyes of Tim Barnard
" is composed of 99.99% pure gold and weighs two troy ounces. Royal Canadian Mint retails the coin for C$5,199.95 (approximately US $4,689). With gold currently trading at $1,360 an ounce, the contemporary art coin sells at a very rich 72% premium to the gold bullion price. This is not that uncommon with NCLTs and this particular coin is not likely to be found at much of a discount since its mintage was limited to just 300 coins. The mint has not sold out of this coin, which is also not surprising considering the high price tag but this should have good collector value with its small mintage and 2 oz of pure gold forming a good base for future value. The likability of the design of the coin will depend on the individual collector as beauty is in the eye of the beholder.