Welcome to Gold Investor Sunday, May 22 2022 @ 07:52 AM EDT
Why melt historic gold coins?
Friday, January 10 2014 @ 10:51 AM EST
Views: 3,903

Ever since the economic downturn of 2008, the Canadian government has been on an asset sale spree - getting rid of many foreign real estate holdings, art, investments and old gold coins. These were $5 and $10 gold coins that were minted in 1914 and removed from circulation almost immediately as the country began hoarding gold once World War I got underway. These were the first and last Canadian gold (circulation) coins and so quite collectible.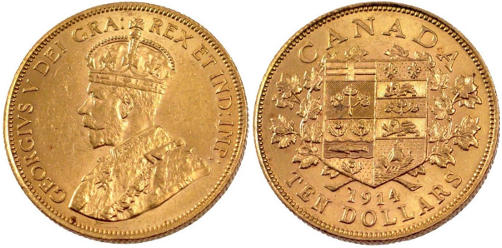 These $5 and $10 were discovered in 2012 as they sat in some vault for close to 100 years. They were put on sale through the Royal Canadian Mint, with 30,000 coins fetching about $28 million (C$30 million). Nice haul for Ottawa. Some of the collectors who had previously thought they had a very rare coin were not too pleased with this influx of supply but this allowed thousands of people to acquire a piece of history. So it is a bit strange to learn that the remaining 215,000 are going to be melted into gold bars and not sold as coins for the premium that they will still command. If the Canadian government wants to maximize its take from this and other asset sales, then it seem foolish to melt them into bars and effectively reduce their value to the spot price of gold.