The pesky geese, which during this frigid North American winter are often associated with high priced
(Canada Goose)
jackets, also adorn the Royal Canadian Mint's first 2014 release of its "$20 for $20" silver coins. As implied by the name of the series, this coin has a face value of $20 and retails from the mint for that same price.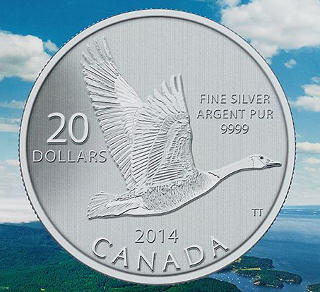 The coin features Canadian wildlife and nature artist
Trevor Tennant
's rendering of the Canadian goose on the reverse and the standard Susanna Blunt portrait of Queen Elizabeth II on the obverse. Like the previous ten coins in this series, this one is made from 99.99% silver and weighs 7.96 grams. RCM will mint 225,000 of these silver coins.
The Royal Canadian Mint does a lot of business minting non-circulating legal tender (NCLT) coins in gold, silver and platinum. All coins are legal tender but usually (only) have a nominal face value. For example, the 5 oz
An Aboriginal Story Gold Coin
retails for $12,000 and has approximately $6,500 worth of gold (as of current gold price and exchange rates). The face value of this coin is only $500 which as this example shows, is wholly irrelevant to its underlying collectable and melt value. Anyone would buy it for $500 and no one (in their right mind) would sell it for $500.
The "$20 for $20" coins are a bit different in terms of the relationship between the face value, cost to purchase and melt value. Collectors/buyers of this coin should note that you are
not guaranteed
to be able to use these silver coins to purchase goods and services or exchange for $20 in Canadian money.